Earn your PSM I Certification & become a Professional Scrum Master

Next Class: January 10-11, 2023
Discounted Pricing ends January 2, 2023
Scroll to the bottom for tickets & additional dates
As a Scrum Master, Coach, Consultant and Trainer, I've worked with dozens of companies, hundreds of teams and thousands of team members – and I still remember exactly what it's like to be a new and aspiring Scrum Master!
Questions like "What should I be doing all day?" and "Does my manager think I'm bringing any value to the team?" would fill me with a bit of dread.
Imposter Syndrome is real and to overcome it, there are certain things you need to accomplish:
✅ Show up in your role with confidence
✅ Improve the overall effectiveness of your teams
✅ Build your reputation and credibility as a leader & trusted advisor in your company
Our Scrum.org Professional Scrum Master class will get you pointed in the right direction!!
Learn to build trust in your team and organization through transparency and empiricism

Establish clear expectations between yourself and your teams & stakeholders

Advance your career by taking on more challenging and rewarding roles

Improve your ability to communicate with Leaders & Executives
Learning Objectives
✅ Help Scrum Teams deliver value to their organization

✅ Understand the theory and principles behind Scrum and empiricism

✅ Understand how each part of the Scrum framework ties back to the principles and theory

✅ Understand uncertainty and complexity in product delivery

✅ Understand the meaning and importance of the Scrum values

✅ Learn what Done means and why it is crucial to transparency

✅ Know how to use the Product Backlog to plan with agility

✅ Understand the importance of self-managing teams, interpersonal skills needed, and the Scrum Master role

✅ Clarify the leadership role a Scrum Master plays on the team

✅ Learn the skills and traits and behavior shifts required to be a Scrum Master
The PSM class is highly interactive.
➡️ Little to no PowerPoint.
➡️ Modern training and facilitation techniques, resulting in actionable learning.
➡️ You will not be bored!
Professional Scrum Master Certification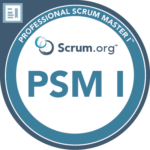 All participants completing the Professional Scrum Master course will receive a password to attempt the Professional Scrum Master I (PSM I) assessment. PSM class participants who attempt the PSM I assessment within 14 days of receiving their password and do not score at least 85% will be granted a 2nd attempt at no additional cost.
Recent Student Testimonials
⏬ Upcoming Classes ⏬
PSM Class – Dates & Buy Tickets
***Please note, all prices are in Canadian dollars***
Quesions?
book time with me
or call:
☎️ 1-844-MD-AGILE