People do incredible things when they are empowered to apply their talents with dignity.
☝️ This is a super power that Professional Scrum Masters unlock with their teams, everyday ☝️

Great Scrum Masters know that it takes more than understanding the rules of Scrum to help their teams achieve their true potential. They rely on a set of traits and skills to empower their teams.
Facilitation is probably the most important of those skills. Growing confidence in your facilitation skills will enable better problem-solving, more effective Scrum events and greater team alignment.
The Scrum.org Professional Scrum Facilitation Skills (PSFS) course is unique in that it is 100% focused on growing your skills. This is a 1-day Live Online class, where you will gain experience with nearly a dozen facilitation techniques. You will feel confident in actually putting these techniques to use, immediately upon return to your teams.
You could spend hours upon hours researching and reading about various facilitation techniques that you may have heard about… or you can spend one day with us and gain both the knowledge and real experience that you will need to succeed.
The PSFS class is highly interactive. We will use modern training and facilitation techniques to deliver a class that will result in actionable learning. And you won't be forced to sit through multiple days of PowerPoint lectures.
You will not be bored, and I can promise you that you will not be able to multi-task during the class – so please plan accordingly.
Learning Objectives
Develop facilitation skills and a facilitator's mindset
Learn the facilitation principles that experienced facilitators fall back on when interactions are difficult
Explore how facilitation can address challenging scenarios most Scrum Teams encounter
Apply facilitation skills and techniques to improve the Scrum events and other interactions
Understand how to encourage diverse perspectives, while bringing the team together to reach decisions
Experience the elements of group dynamics and how they influence the decision-making process
Leave class with a toolbox of facilitation techniques and understand how to apply them in different circumstances
Who is this for?
Experienced Scrum Masters and Scrum Practitioners
Agile Coaches and Consultants
Note: This course is not suitable for professionals who have little to no Scrum knowledge or experience.
Professional Scrum Certification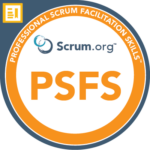 All participants completing the Professional Scrum Facilitation Skills course will receive a password to attempt the Professional Scrum Facilitation Skills assessment. Participants who attempt the PSFS assessment within 14 days and do not score at least 85% will be granted a 2nd attempt at no additional cost.
Discounts on future classes
By attending a class with MD Agile Consulting, you are automatically eligible for a 30% discount on any future class – So that you can continue levelling up as you grow in your role.
Subscribe To The Newsletter
Book Time With Me!
… are interested in Agile Training for yourself and/or your teams
… believe Agile Coaching & Consulting may help you get over the hump
… are just feeling stuck in your Agile journey
… work with teams that are highly unpredictable & seemingly disengaged
then, spend 30 minutes with me (for free) and leave with some insights, some homework, and a clear understanding of what I could do to help you.
Sound good?
If you are still not sure, please use the button below to book some time with me*. I'd be happy to chat and help you decide whether this or any other course might be suitable.
If you are already certain that this class will level you up and help you become a better Professional Scum Master, you can get your ticket here at a Black Friday discount price of $450 +HST (Regular Price: $699)
* This year's Black Friday Sale ends on November 28th, but if you book time to chat with me before then and decide to purchase a ticket later, you'll still receive the Black Friday discount.
Note: All prices are in Canadian Dollars.